New Release Box Set Number 2
ANOTHER BIG STEP FOR DRAGON'S GAP : LATEST NEWS!
I have received my 3D cover and can finally release my second Box Set. I decided to include my Novella, Love's Impulse with books 4 & 5 in my epic fantasy-adventure-romance Dragon's Gap Series. Also watch for the last box set coming soon. I have priced this set at 50% off my standard book prices for a limited time if you purchased them individually.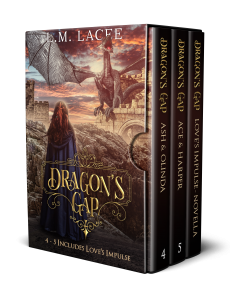 Book 4. I hope you will enjoy the journey of Reighn and Sage's developing relationship as we enter the world of Dragon's Gap.
Book 5. takes us on a journey with Sharm and Edith discovering the pitfalls that arise from the lack of communication in a marriage.
Novella: Love's Impulse shows us how a family can come together with only the love of one little girl.
To find out more and keep up to date with my writings click HERE NOW!
Click here to read more about book 4
Click here to read more about book 5