Box Set Release!
BIG NEWS! BIG NEWS!
So excited I have received my 3D cover and can finally release my first Box Set. I decided to include my Novella, Love's Catalyst with the first 3 books in my epic fantasy-adventure-romance Dragon's Gap Series.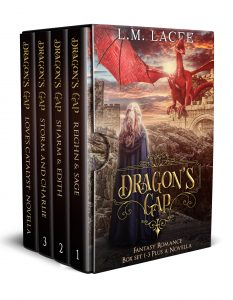 Book 1. I hope you will enjoy the journey of Reighn and Sage's developing relationship as we enter the world of Dragon's Gap.
Book 2. takes us on a journey with Sharm and Edith discovering the pitfalls that arise from the lack of communication in a marriage.
Novella: Love's Catalyst shows us how a family can come together with only the love of one little girl.
Book 3. How far would a woman go for the love of a good man!
To find out more and keep up to date with my writings click HERE NOW!